BASIC INFORMATION ON CURRENCIES EXCHANGE
If you ever travel to another country for holidays or work and you have exchanged your currency to their foreign currency, you would have participated in forex trading. Take for example, you are a Singaporean visiting Malaysia, you would have sold Singapore dollars and bought Malaysia Ringgit. The foreign exchange market is the largest financial market in the World.
8 MAJOR CURRENCIES IN THE WORLD
There are 8 major currencies in the World. They are US Dollar, Euro, Yen, Pound, Swiss Franc, Canadian Dollar, Australia Dollar and the New Zealand Dollar.
Currency pairs that contain the US Dollar(USD) on one side are called major currency pairs. They are:
EUR/USD, USD/JPY, GBP/USD, USD/CHF,USD/CAD, AUD/USD, NZD/USD.
Currency pairs that don't contain the US dollar are known as crosses or minors. They are:
Euro Crosses- EUR/CHF, EUR/GBP, EUR/CAD, EUR/AUD, EUR/NZD
Yen  Crosses- EUR/JPY, GBP/JPY, CHF/JPY, CAD/JPY, AUD/JPY,NZD/JPY
Pound Crosses- GBP/CHF, GBP/AUD, GBP/CAD, GBP/NZD
Other Crosses- AUD/CHF, AUD/CAD, AUD/NZD, CAD/CHF, NZD/CHF, NZD/CAD
There are some people who like to trade the exotic pairs such as USD/ZAR (South Africa).
CURRENCY PAIRS
Currencies are always quoted in pairs such as GBP/USD or USD/JPY
In currencies trading; you are buying one currency and selling other at the same time. The left side is known as the base currency and the right side is known as the quote currency. Take for example, if GBP/USD= 1.22785, you need to pay 1.22785 USD for 1 British Pound.
So if you think that GBP/USD is going up you will buy (go long). If you think that GBP/USD is going down, you would go short.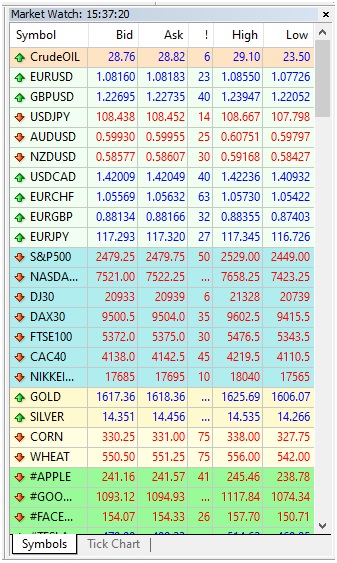 GOOD TRADER & BROKER
It is important to find brokers with reasonable spreads and have a wide range of products so that you can keep your costs low and a wide range of products enables you to exploit market opportunities whenever it arises.
Bid is always lower than the ask price. The bid is the best price that you as the trader can sell to the market. The ask price is the best price that you as the trader can buy from the market. The difference between the bid and ask price is the spread.
In order to become a good trader, you need to be competent in your technical analysis, fundamental analysis, money management, risk management and trading psychology.
PIP
A pip is the last decimal place of a price quote. Most currency pairs have 4 decimal places except for Japanese yen that goes to two decimal places. Normal brokers usually offers currencies pairs with the standard 4 and 2 decimal places. Competitive brokers that offers good rates will have 5(most pairs) or 3 decimal places(Yen pairs)
Some brokers offer free demo account for you to practice first before trading live so that you can practice first before going live with real money. You should trade on demo first until you are profitable with your demo account before going live.
WHAT WE CAN HELP
In our website, we will also provide reading materials and practices to equip you with the knowledge about trading. As the saying goes, you can't learn how to ride a bike by reading a book. It will be good practice for you to read and at the same time practice on a demo account so maximise your learning curve.
https://fortitude-funds.com/wp-content/uploads/2020/04/bg.jpg
900
1600
admin
https://fortitude-funds.com/wp-content/uploads/2020/04/fortitude-funds-weblogo-1-1030x233.png
admin
2021-11-04 13:00:50
2021-12-04 11:54:05
Module 1: BASIC INFORMATION ON CURRENCIES EXCHANGE